Akin, Space Systems Lab featured in The Washington Post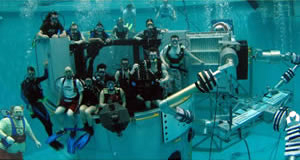 The Nov. 7 edition of The Washington Post contains a nice story on ISR- and Maryland Robotics Center-affiliated Associate Professor Dave Akin (AE/ISR), the Neutral Buoyancy Research Facility, and the Space Systems Laboratory.
The article was prompted by the facility being voted one of the top five "most awesome college labs" by Popular Science magazine.
Read the story online at The Washington Post website.
Related Articles:
Maryland Robotics Center hosts Northrop Grumman Navigation and Maritime Systems Division team
UMD President Loh hosts robotics demonstrations at University House
Students present final projects for 2014 NSF Microrobotics REU
Clark School Students Shine in Recent Competitions
Five hours of Maryland robotics on FOX 45 Baltimore
NASA Robo-Ops Final Standings

November 10, 2010
Prev
Next