Paley Wins NSF CAREER Award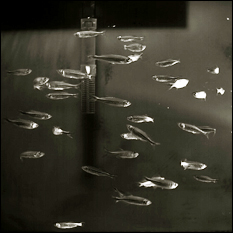 Clark School aerospace engineering assistant professor Derek Paley has won a $400,000 National Science Foundation Early Faculty Career (CAREER) Award for work that will study information transmission in biological groups (like schools of fish) and apply the same principles to design motion coordination strategies for autonomous vehicles.
"Research in biologically inspired coordination of unmanned systems has applications in the inspection of aging civil infrastructure, improved forecasts of hurricane intensity, and environmental monitoring of climate variability," said Paley.
As part of this research, Paley will work with Clark School K-12 outreach programs and use his research to interest K-12 students in science and engineering.
Related Articles:
Synchronized Swimming for Submarines
Maryland researchers awarded DARPA cooperative agreement to develop robotic swarm strategies
Alumnus Philip Twu's exciting career in space robotics
Alumnus Xiaobo Tan named Withrow Distinguished Scholar at Michigan State
Derek Paley interviewed for WYPR's 'On the Record'
UMD Opens Outdoor Flight Laboratory to Advance Autonomy, Robotics
Miao Yu named Maryland Robotics Center director
Alumnus Fumin Zhang promoted to full professor at Georgia Tech
Sarah Bergbreiter engineers submillimeter-sized robotic systems
Thank you, Lockheed Martin!

March 26, 2010
Prev
Next