Regli is co-PI for ARM functional interoperable compiler project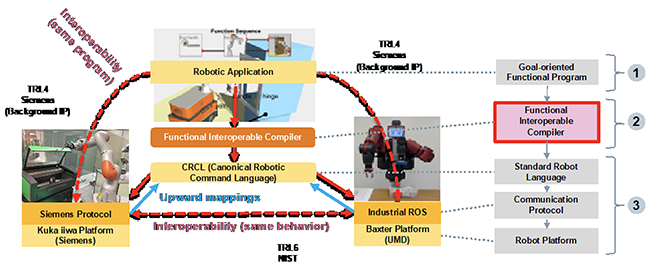 The functional interoperable compiler bridges the gap between goal-oriented programming and robot communication protocols through the canonical robot command language.
The Advanced Robotics for Manufacturing collaborative (ARM) has selected Siemens Corporate Technology and the University of Maryland to work on a technology project deemed critical to advancing robotic automation in manufacturing.
The project is one of eleven projects announced Jan. 29. ISR Director Bill Regli (CS/ISR) is a co-principal investigator for the research project, "Functional Interoperable Compiler."
The research will create a high-level, standardized declarative language for robot programming. With this new language, workers of any skill level will be able to specify robot commands, using automated tools to translate functional specifications into procedural code that can execute tasks in various robotic platforms.
ARM is the nation's leading collaborative in robotics and workforce innovation. Structured as a public-private partnership, it accelerates the advancement of transformative robotic technologies and education to increase U.S. global manufacturing competitiveness.
Related Articles:
Machine Learning's Translational Medicine
Realistic simulator improves safety of self-driving vehicles before road testing
Do Good Robotics Symposium to explore technologies that benefit society and the planet
Alumnus Xiaobo Tan elevated to ASME Fellow
Cornelia Fermüller joins ISR affiliate faculty
Maryland Robotics Center team demonstrates robots at 2019 AAAS Annual Meeting
Student autonomous robotics competition slated for June 2019
It takes a swarm: These robots talk to each other, make decisions as a group
Maryland Robotics Center sponsors grad student project on robotics in farming
These are tiny robots. And they are awesome.

February 19, 2019
Prev
Next