Maryland Robotics Center students participate in FAA STEM outreach event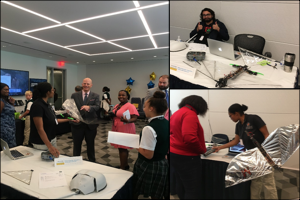 The Maryland Robotics Center was invited to demonstrate robots at the Federal Aviation Administration (FAA) STEM outreach event for high school and middle school students on September 25, 2018. Ruben Acevedo and Lena Johnson, two Mechanical Engineering PhD students, represented MRC at this event which was held at the FAA's offices on Independence Avenue in Washington, D.C.
Acevedo and Johnson demonstrated the MRC bioinspired robots Robo Raven and Robo Crab. Robo Raven is a micro air vehicle that can fly like a bird, mimicking wing flapping. Robo Crab can crawl over rocks and sand like a real crab. Robo Crab has a built-in gyro sensor which helps it detect its tilt with respect to its original position and stand upright when toppled.
This outreach event was aimed at helping students learn more about how science, technology, engineering and math play a crucial role in aviation and its advancement. More than 50 children from three different area schools came to the event, which also included presentations by FAA staff on aviation safety and advancements. "We were able to reach out to children to satisfy their scientific curiosity," said Johnson. "I could see the excitement on their faces when we told them about the various uses of these robots."
Related Articles:
Bio-inspired robots invade Aspen Hill Library
Bio-inspired robots storm local library
Maryland Robotics Center team demonstrates robots at 2019 AAAS Annual Meeting
Maryland Robotics Center sponsors grad student project on robotics in farming
UMD Risk Expert Contributes to National Academies Report on National Drone Policy
Miao Yu named Maryland Robotics Center director
Thank you, Lockheed Martin!
Maryland Robotics Center demonstrates robots at Maryland Day 2016
Bergbreiter named director of Maryland Robotics Center
What an upgrade!

October 2, 2018
Prev
Next